PROMINENT FILM ACTRESSES OF THE COUNTERCULTURE, 1965 - 1975
Hollywood's attempt at cashing in on the counterculture of the 1960s was pretty much a failure; for every Easy Rider, there were two Zabriskie Points. But for that brief moment in time, these ladies nicely embodied the sprit of youth, liberation, protest and flower-power, despite filmdom's general clumsiness at capturing the era for posterity.
______________________________________________________________________________________
MIA FARROW JOHN AND MARY (1969)
LEIGH TAYLOR-YOUNG I LOVE YOU, ALICE B. TOKLAS (1968)
KITTY WYNN (WITH AL PACINO) PANIC IN NEEDLE PARK (1971)
RONEE BLAKELY NASHVILLE (1975)
ROSALIND CASH (WITH CHARLTON HESTON) OMEGA MAN (1971)
DARIA HALPRIN (WITH MARK FRESHETTE) ZABRISKIE POINT (1970)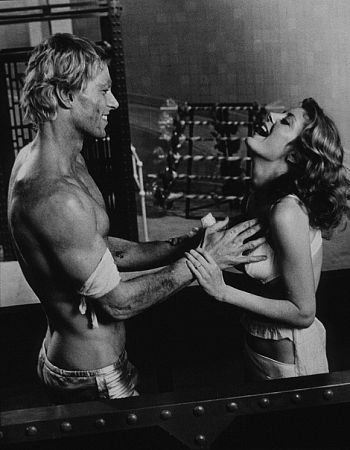 SUSAN SARANDON (WITH PETER HINWOOD) THE ROCKY HORROR PICTURE SHOW (1975)
OLIVIA HUSSEY ROMEO AND JULIET (1968)
KATHARINE ROSS (WITH PAUL NEWMAN AND ROBERT REDFORD) BUTCH CASSIDY AND THE SUNDANCE KID (1969)
KAY LENZ BREEZY (1973)
DIANE KEATON (WITH WOODY ALLEN) SLEEPER (1973)
CRISTINA RAINES (WITH KEITH CARRADINE) NASHVILLE (1975)
SHELLEY DUVALL (WITH BUD CORT) BREWSTER McCLOUD (1971)
FRANÇOISE HARDY GRAND PRIX (1966)
LAURIE BIRD (WITH DENNIS WILSON AND JAMES TAYLOR) TWO-LANE BLACKTOP (1971)
MARGOT KIDDER THE REINCARNATION OF PETER PROUD (1975) 
BARBARA HERSHEY BOXCAR BERTHA (1972)
MICHELLE PHILLIPS (WITH WARREN OATES) DILLINGER (1973)
KAREN BLACK (WITH JACK NICHOLSON) FIVE EASY PIECES (1970)
MARIA SCHNEIDER (WITH MARLON BRANDO) LAST TANGO IN PARIS (1972)
______________________________________________________________________________________
These ladies all had wildly varied careers. Some were movie dilettantes, like singers Françoise Hardy and Michelle Phillips, and acted as a side gig. Others ended up doing better on TV, like Kay Lenz and Cristina Raines.  And a few even became bona fide superstars, like Diane Keaton and Susan Sarandon.  
Most, however, never fulfilled their promise; the most likely reason being that Hollywood in the late 60s and early 70s was an almost entirely male dominated arena, both behind and in front of the camera. Violent actioners and thrillers, like the Dirty Harry franchise and films by Sam Peckinpah and Martin Scorsese were big box-office. And about the only bankable female star of the era was Barbra Streisand.
Hollywood (being slow on the uptake) wasn't interested in "Women's" films until the late 70s when Jane Fonda and Jill Clayburgh started portraying liberated ladies a decade after the movement began.  By then most of the promising stars of the counterculture had been downgraded to second leads or TV actresses.  Some moved on to other careers, some simply faded away.
And then there's Laurie Bird.  A fringe figure in the world of rock and fashion, she starred in two films for Director Monte Hellman and had a tiny role in Annie Hall.  She was an almost atypical Laurel Canyon show-biz hippie of the era; hooking up with Art Garfunkel and taking up fashion photography when her movie career went south.  She had been away from acting for a few years when, in June of 1979, she committed suicide in Garfunkel's Manhattan apartment.  Sweet, and probably too sensitive for the movie business, Laurie was only 25 years old. - PF